Sometimes, you may be very excited to rush home to play with your puppy only to see that your cute little pup is all curled up in bed. And this may not be the only time. You may also want to say your goodbyes in the morning before reporting for work, but just the same, your puppy may still be in its bed. This is because puppies love to sleep so much.
Seeing that your beloved puppy spends most of its time sleeping, don't you think that it's best to gift him the nicest bed in town? You should, for all the good vibes that it gives you, he definitely deserves it.
Here are 8 beds that you should consider when buying a bed for your cute sleeping beauty:
BarkBox 2-in-1 Memory Foam Puppy Cuddler Bed
This bed for puppies has definitely made the best of impressions on many dog owners because of its high quality. Its two-in-one design makes it even more advisable to buy for pups as some dogs may not want to curl up in bed all the time. They may want to sleep on the floor sometimes.
If you are looking for a puppy bed that is stylish, comfortable, easy-to-clean, and well-built, BarkBox 2-in-1 Memory Foam Puppy Cuddler Bed may just be it. It also comes with a warranty and a toy for your dog.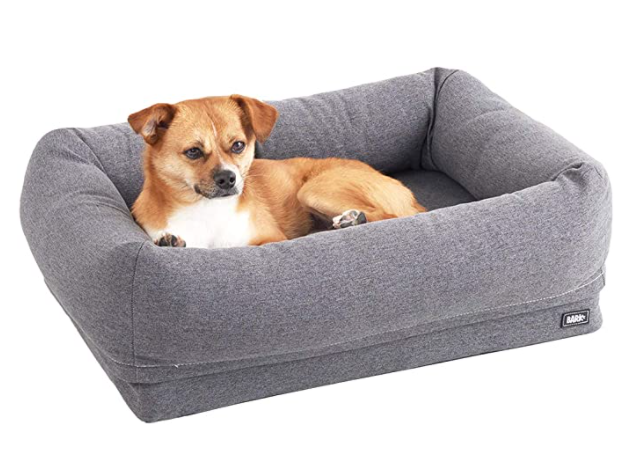 Source: Amazon
JOYELF Orthopedic Memory Foam Pet Bed for Puppies
This bed for puppies can easily be one of the top picks to consider. Your puppy's level of comfort is surely guaranteed as it has pillows all around its side. It is also easy for a small puppy to climb as it has an access gap at the front. With a non-slip rubber, backing slippage is prevented. And with its memory foam, the immature bone of your puppy is optimally protected. When buying this bed, your puppy will also get a bone-shaped soft toy.
Source: Amazon
MIXJOY Orthopedic Puppy Bed Donut Cuddler
This donut-shaped bed is best for puppies that want to curl up during sleep. It is a very comfortable bed with an elegant faux fur cover. It is lightweight, portable, and machine washable. It is also water-resistant and has a non-slip base so it does not move on the floor even if your puppy gets a little playful before sleeping.
Source: Amazon
Furhaven Sofa-Style Orthopedic Memory Foam Bed for Puppies
This memory foam bed has a small size which is excellent for your puppy. What's good about this bed is it provides enough room for your puppy to stretch while sleeping. It is also possible for your puppy to maintain many positions while sleeping. If you are on a budget, this puppy bed is the best choice as it is priced affordably but not compromising quality.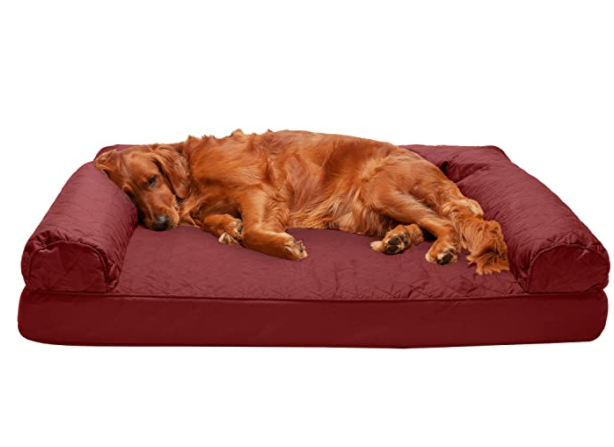 Source: Amazon
K&H Pet Products Lounge Sleeper Pet Bed
While Furhaven is already affordable, K&H Pet Products Lounge Sleeper Pet Bed is even cheaper in price. But this does not mean that it is of lower quality. The exceptional characteristic of this puppy bed is it is self-heating. It also has no-slip base with recycled stuffing. Moreover, it comes with a one-year warranty.
Source: Amazon
FurHaven Snuggery Burrow Bed
If your puppy has a thin coat, it is certain that any cold night will be uncomfortable for him. With a luxury cozy bed, you can be sure that it gives extra warmth to your puppy because of its hooded design. Pups that show signs of being afraid may feel better secured with this bed. Its oval-shaped feature also makes this bed perfect for puppies that like to curl up while sleeping.
Source: Amazon
Majestic Suede Bagel Bed
Your puppy will surely fall in love with this bolster bed immediately. It is super comfy with raised edges for your cute little pup to snuggle against. It is water-proof and machine-washable making it easier to clean.
Source: Amazon
Pet Magasin Thermal Self-Heating Puppy Mats
The Pet Magasin Thermal Self-Heating Puppy Mat is a warming mat that uses the heat coming from a puppy's body to produce heat. It comes in two sizes, small and large. The advantage of this mat for puppies is that it can easily fit in any kind of crate.
Source: Amazon
When choosing a bed for your puppy, always remember that puppies can be fast growers. In a month's time, you may see how much your dog has increased in size. With this in mind, it is best to choose a bed that is much bigger than your puppy. This way, your puppy can use the bed for the longest time possible.
Have an opinion or comment? Let us know below!