Successful dog crate training can be one way to ensure that you will be living a harmonious and happy life together with your dog. It will not only benefit one but both of you. When your dog is in its crate, it allows you to be on your own sometimes when you need it and this may include being away from your attention-seeking pet dog. The same is true with your dog, it has a place that it can call its own where it can go whenever it wants to have some space from you.
Undoubtedly, there are many other benefits of a crate, these make it all the more important to conduct a dog crate training the soonest possible time after bringing home a new puppy. To ensure that the training will be successful, you need to be patient and consistent. If not, you may have to go back to where you have started. Another aspect is the crate itself. Did you choose one that is perfect for your puppy?
An ideal crate is something that is not too small or not too big for your pup. It should be just big enough for your poop to stand, lie down, and circle around. Here are the best crates that you can choose from for your furry baby's crate training:
Petmate Ultra Vari Kennel
This crate is known for its durability, sturdiness, ease of cleaning, and versatility. This is why pet shop vets, pet shops and, animal care services prefer this crate. With its sturdy materials, you can be assured that it can weather your puppy's gnarls and bites. It is also suitable for travel or as a home den for your furry baby.
Source: Amazon
Life Stages Double Door Folding Dog Crate
This might look ordinary but its benefits extend beyond its appearance. This simple-looking wire crate is made from durable steel and has rollers, making it floor-friendly. It has a divider in it so you can expect it to suit your dog for many years to come. You only have to move the divider while your puppy is growing bigger by the day.
Source: Amazon
MidWest ICrate Double Door Folding Metal Dog Crate
This heavy-duty crate may look like the Life Stages Dog Crate but can be more preferred by dog owners looking for a more affordable crate. You also have more options with this crate for puppies as it comes in a wide range of sizes with single or double door versions. You can also choose to have a divider panel or not.
Source: Amazon
SmithBuilt Heavy Duty Dog Crate
If you have a strong and destructive puppy, there is no other crate that can be better than the SmithBuilt Heavy Duty Dog Crate. It is made from premium-grade construction material to ensure that it can withstand any beatings from the strongest puppy in town. Thanks to its four rolling casters. You can move this heavyweight 2-door crate easily.
Source: Amazon
PetNation Indoor/Outdoor Pet Home
A soft-sided crate is ideal for puppies that have been crate-trained already and do not chew on everything that comes close to it. PetNation Indoor/Outdoor Pet Home crate is ideal for dog owners who travel a lot with their pets. It is made from high-quality fabric and steel frame, offering maximum support. This crate has also easy-to-clean features.
Source: Amazon
Petmate Two Door Top Load Pet Kennel
There are many reasons to choose this hard-sided crate. If your puppy is not comfortable entering a crate through a door, a crate with an opening at the top can be the solution. Petmate Two Door Top Load Pet Kennel is the perfect choice when looking for a crate with this kind of door opening. It is durable and easy to clean.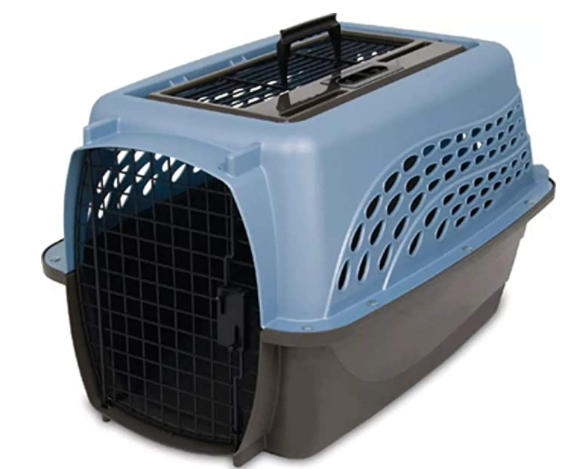 Source: Amazon
Petmate Sky Kennel
This can be the perfect choice for travelers who always bring their pet dogs with them as it is approved by most airlines. This hard-sided crate uses premium quality plastic and steel to ensure durability. It also has interlocking doors and ventilation from all sides. Made from recycled materials, the handles of this crate are strong. It has a "live animal" sticker on it with clip-on bowls and ID stickers, making it truly the top choice when traveling.
Source: Amazon
Indeed, crates can serve many purposes. In some cases, you may have to choose more than one crate. If you constantly travel, you may have to choose one for your home and another one to be used during your travels.
Have an opinion or comment? Let us know below!