If you love spending as much time with your pet as we do here at HPT, you know that nothing can be more heartbreaking than seeing your puppy-eyed best friend watching you leave home without them. But did you know you could be taking your dog with you on most of your errands?
Taking your dog along for your weekly errands is not only fun, but also helps to improve their mental stimulation because of all the new sights and smells they'll get to experience on the way. 
So grab the leash (and be sure to have a potty break before entering any stores!), and enjoy shopping the aisles of these dog-friendly stores with your best friend.
Ace Hardware
So long as your dog is leashed, they can roam around with you in any Ace Hardware to help pick out a paint color, yard essentials, and whatever else you have on your home improvement to-do list. 
Barnes & Noble
Selecting a new book with your pet by your side – what could be better? Barnes & Noble welcomes well-behaved dogs in all of their stores, so long as they're leashed or in a pet carrier. Just be sure not to bring them into any coffee shop areas in the store, and, if they're barking, you could be asked to leave so you don't disturb other shoppers.
Lowes
Lowes' dog-policies are dependent on the manager on duty, so be sure to call ahead before bringing your pup along. However, all of Lowes Outdoor Living Sections are fair game, so you can always bring your dog along to help shop for all of your gardening necessities. 
Bass Pro Shops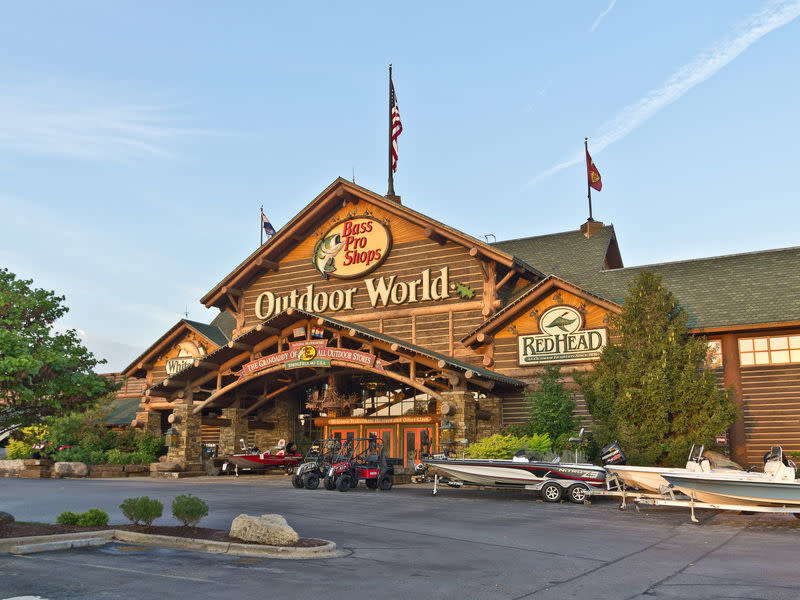 From camping gear to all of your fishing trip essentials, you and your dog can shop for all-things-outdoors at any Bass Pro Shop across the United States, together. Plus, with a variety of dog products, you can even fit your pup for a new collar, find a new bed, and pick up some treats with them alongside to approve their favorites!
The Apple Store
Make the waiting times at your local Apple Store a bit more bearable by bringing your dog along. Just be sure they're leashed and well-behaved, especially in busier stores with heavier foot traffic. 
Sephora
Bring your pup along to help pick out your next eyeshadow palette at Sephora, and while you're at it, check out their cruelty-free brands – your dog will thank you! 
Starbucks
Head to the drive-through or outdoor seating area at your local Starbucks for a caffeine fix for you, and ask for a "puppuccino" – a small cup of whipped cream – for your dog to enjoy as a tasty off-menu treat! 
Nordstrom
The only thing that could make department store shopping even better is bringing your dog along – and Nordstorm lets you do just that! Have your four-legged friend help you pick out a new sweater, then head to the pet accessories section to treat them to a new one of their own! 
Remember, before bringing your dog out on your weekend adventures and errands, run a quick reality check. If you know your pup is not good in crowds, or isn't the most well-behaved on a leash, consider a few training classes before bringing them out in public.  
Additionally, always call a store first to make sure it's okay to bring your dog, and be sure you've packed cleaning wipes in case they have an accident in the store.
If you're looking for even more places to take your dog along, check out BringFido for a complete list of pup-friendly stores and restaurants in your local area. 
Have an opinion or comment? Let us know below!